Accurate Tarot, Palmistry, Mediu

mship & Psychic Readings




By Spellboundsue ...Sue Peppiatt







See Your Future............heal your past.
The Strength card is often symbolised by a woman holding a lion, or stroking or a bull, or dragon or other animal of power often opening its jaws to show its teeth.
She looks delicate and womanly, but shows no fear and has complete control of the animal, her face serene, her strength and power understated but absolute.
This card means , among other things:-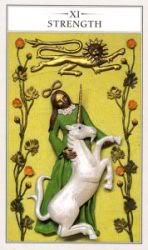 You are strong,
Be strong,
Immense,
This is very important.
Strongly ,The cards suggest
Healthy
Fit
Surely
We strongly advise
As a one card reading, this card  would mean ,
.Be guided to keep strong , and believe in your own strength
Strength.............one card reading