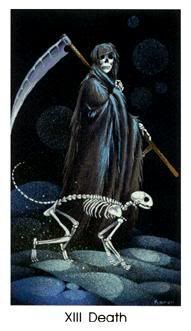 One of the most feared cards inthe pack, sometimes you can hear an audible gasp as this card falls. The figure of death complete with scythe and bony hands swathed in black can stir feelings of fear in even the strongest looking man or woman. Other cards just portray a skeleton,or a skull.
This card, however, rarely means death, more often it is the harbinger of change, of sweeping away all that is finished and preparing for new beginnings.
This card means among other things,
Death,
Changes
Sweeping away past existences
Someone who has passed away
Rebirth
   A new way of looking at things
As a one card reading this card would say, prepare for changes which sweep all the deadwood out of your life.They may be uncomfortable, but they are for your general good.