Accurate Tarot, Palmistry, Mediu

mship & Psychic Readings




By Spellboundsue ...Sue Peppiatt







See Your Future............heal your past.
The Hermit     Major Arcana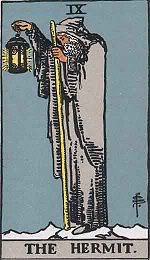 The Hermit shows a man in long grey robes. In one hand he carries a lantern ,showing that he is enlightened,one light in the darkness.He is usually barefoot and sometimes a pauper in rags.  At his feet is a river, on which floats by the flotsam and jetsam of life  He is a man who sees all, and keeps it within himself for greater knowledge.Often there is an association with the stars, again showing lights in darkness, a metaphor for knowledge.
This card means , among other things
Wisdom
A man who holds himself apart, and will not allow others in.
Enlightenment
Loneliness
 Alone
 Wise move
 Take time to think things out
As a one question reading, this card would urge you to take one step at a time, and to think long and hard before making any decisions.....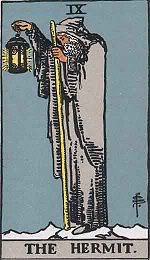 A time of loneliness and a need for thought and wisdom;
 Someone has put up  barriers which make it difficult for you to be close.