Accurate Tarot, Palmistry, Mediu

mship & Psychic Readings




By Spellboundsue ...Sue Peppiatt







See Your Future............heal your past.
 The High Priestess shows a woman, usually in a long white dress standing between two pillars;one white and one black, These signify judgement and balance,wherever they are found in the major Arcana cards. Sometimes a pomegranate is shown, showing a connection with persephones time in the underworld,and there is often  a connection with the moon, alluding to the psychic mind.  
This card  means, among other things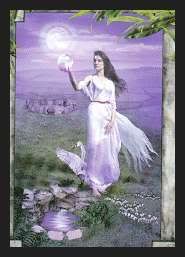 A highly regarded woman,
Doing things in a correct, and proper way,
A Bride,
Highly thought of
Spirituality, high thought,
Being put on a pedestal,
Seemingly out of reach.
In a one card daily reading She would mean,
' Go about the day with your head held high, doing the right thing, in the knowledge that others would respect your decisions.',